About the MME Awards
Celebrating the European sound of today and tomorrow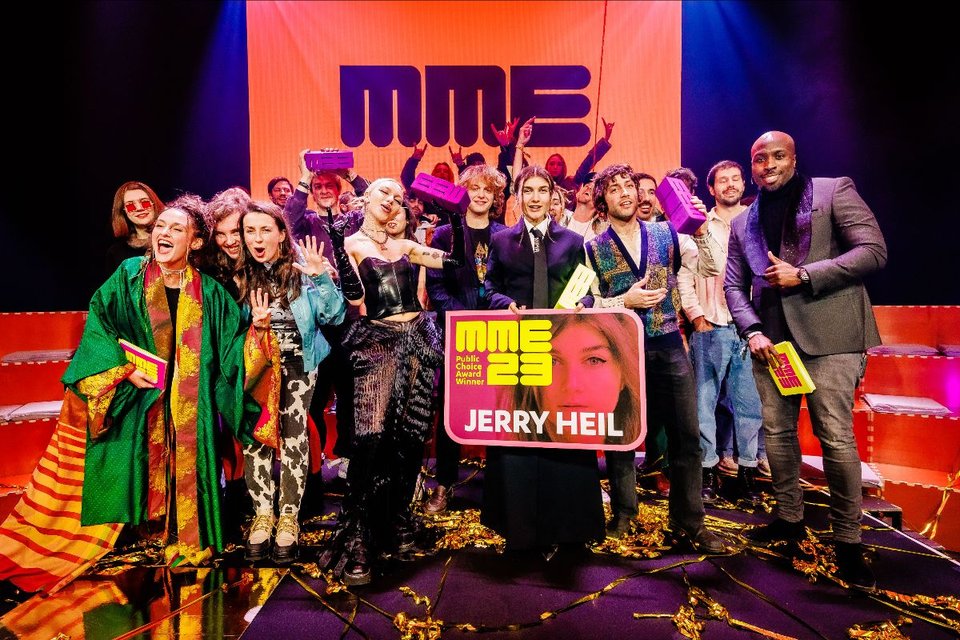 THE MUSIC MOVES EUROPE AWARDS
The Music Moves Europe Awards is the European Union Prize for popular and contemporary music. With this Prize, the European Union seeks to highlight the diversity of European music and promote emerging European talents. Previous winners are Dua Lipa, Stromae, Inhaler, Rosalía, Sigrid, Alan Walker, Meskerem Mees, Meduza, Hozier, Lous and the Yakuza and Naaz to name a few.
WHY
Europe's vibrant and diverse music scene has to compete against a dominant Anglo-American music industry. With the Music Moves Europe Awards, the European Commission aims to put a spotlight on the most interesting new European talents and to showcase the richness of the European music industry.
WHO
The Music Moves Europe Awards are organized by Eurosonic Noorderslag (ESNS) in partnership with Reeperbahn Festival and co-funded by the Creative Europe program. It gets the support of a unique alliance of European music industry partners. The nature of this EU Prize affirms a shared commitment to help emerging artists to break through in Europe and beyond.
NOMINATIONS AND AWARDS
Each year, 15 emerging artists are nominated and eligible to win a Music Moves Europe Award. All these 15 nominees are given the opportunity to perform at the Eurosonic Festival (ESNS) and are invited to join the exclusive MME Education program. The 5 winners of the Music Moves Europe Awards are also honored with prize money of EUR 10.000.

The winner of The Grand Jury MME Award wins EUR. 10.000 and the Green Touring Voucher of EUR 5.000. A selection of nominees and winners will also be invited to play at the Reeperbahn Festival in September.

The highly regarded MME Public Choice Award is decided by the fans of the 15 nominated artists in a voting campaign. Promoted by themselves, each artist has a chance to win EUR 5.000 and a Deezer Session recording if they gather the most votes!
For the complete MME Prize Package for the 15 nominees and winners click here!
HOW DOES IS WORK?
The nominees are selected through a complex selection process based on the amount of airplay, music streams, live performances in Europe, as well as via music industry recommendations to reflect the vibrant diversity of the European music scene.
The selection committee works with data from SoundCharts enriched with data on bookings in venues and festivals. These data are then supplemented with recommendations of more than 300 European music Industry professionals. They are asked to name their favorite emerging artists in the country they live in and one from another European country. Once all the data is in, we compile an overview of all the possible nominees. As we have rules when an emerging artist will be considered to be eligible to be nominated, we check each year hundreds of artists on the basic rules of the MME Awards. (See below)
After this, the selection committee has a complete list of artists from each participating country in the Creative Europe Program* and starts to investigate which artists fit best in terms of career growth trend, social media following and their current status of still emerging.
The final selection consists of 15 artists from 15 countries, representing the (musical) diversity of Europe. Which all have the potential to become successful in their careers.
BASIC RULES
An emerging artist qualifies to be nominated if they:
have a debut release which has been released in the past 36 months.
(being a collection of more than 2 songs, like an EP/Album etc.)
should have measured radio airplay and/or streaming outside their own country.
have performed live on stage in at least 1 other country outside of their home country.
are registered residents of one of the countries participating in Creative Europe.
have built up an active fan base and following.
have a proven ability to perform live.
repertoire fits into one of the musical (sub)genres* of the Prize.
*Main genres are: Pop, Rock, Singer-Songwriter, Hip Hop-Rap, R&B-Urban, Electronic, Loud and Alternative. All possible sub-genres can derive from the genres listed in Spotify or a sub-genre that is provided by the artists themselves.
Other criteria for the Selection Committee are:
Only 1 artist can be nominated from each eligible country.
The list of nominees reflects the European cultural and linguistic diversity in popular and
contemporary music.
The list is a balanced selection of artists in which equality in all its forms is paramount and visible.
The artists do not express "offensive" (political) views which are against European values and standards.
* The countries participating in Creative Europe are the 27 EU countries and Iceland, Norway, Liechtenstein, Albania, Bosnia and Herzegovina, Kosovo, Montenegro, North Macedonia, Serbia, Armenia, Georgia, Ukraine and Tunisia.