MME Awards at Reeperbahn
The Music Moves Europe Awards will be showcasing at Reeperbahn Festival and Conference in Hamburg. The following 2022 MME alumni will be playing a show: Friedberg, Ladaniva, Francis Of Delirium, Meskerem Mees and Blanks. Furthermore, Alyona Alyona, the 2021 MME Public Choice Award winner, will do a showcase.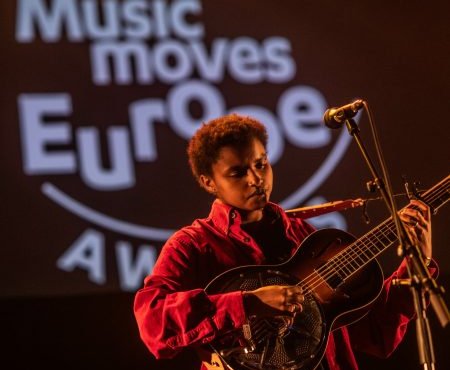 Alongside the showcases the Music Moves Europe Awards will host a networking event on Thursday the 22nd of September. It will take place late in the afternoon, at 16:00 at Hotel East, Bombay & Bacardi Lounge. Please fill in this form if you want to attend.
We want to invite you to look back with the artists, our partners and the representatives of the European Commission. On top of that, some of the MME artists performing at Reeperbahn will share their stories. Furthermore we will share our experiences with the green touring voucher and we have a couple of very special guests. Former MME Awards winner Naaz will be our host. 
September 21st 2022
Ladaniva @ Reeperbahn Festival
Ladaniva is a multicultural band creating world music with a fresh touch of Armenian folk and other traditional forms, including maloya, Balkanbeat, reggae, Arabic, and African influences. The group was founded in October 2019 by Armenian singer Jacqueline Baghdasaryan and French multi-instrumentalist Louis Thomas. Ladaniva immediately became famous with the song 'Vay Aman', which presented a fresh style and a new approach to world music.
Ladaniva won the Music Moves Europe 2022 Public Choice Award. 
September 22nd 2022
Meskerem Mees @ Reeperbahn Festival
Armed with nothing but her intriguing voice, her acoustic guitar and the cello of her buddy, Meskerem Mees transforms her layered and carefully crafted songs into the sweetest ear-candy. In 2020 the young Belgian musician conquered the radiowaves and the hearts of a nation with first single 'Joe'. Meskerem releases her enchanting debut album in November 2021, produced by Koen Gisen.
Meskerem Mees won the Music Moves Europe 2022 Grand Jury Prize. 
September 22nd 2022
Blanks @ Reeperbahn Festival
Imagine smooth pop music, happiness and (over)-excited yelling, and you've got Blanks. This tall Dutch musician rapidly build an international fanbase through his YouTube channel, starting at the age of 15 and now attracting over 1 million subscribers. His 'style swaps' have led to collaborations with DJ Armin Van Buuren, and Ariana Grande gave him love for 'Thank U, Next.' In 2020 Blanks put out the cheerful compilation 'Cheap Sodas and Ice Cream Kisses', and his long-awaited debut album is in the works, with the first single already picking up airplay on European radio stations like BBC, FM4, NPO 3FM and MTV.
Blanks won a 2022 Music Moves Europe Award. 
September 23rd 2022
Friedberg @ Reeperbahn Festival
Friedberg is the brainchild of Austrian-born, London based Anna Friedberg. The 4-piece, all female band are a tour-de-force of gritty rock energy combined with unforgettable pop melodies and otherworldly vocals. Anna perfected her song craft writing under different artist names, culminating in Friedberg. Single 'Go Wild' got a huge boost when it was picked for the FIFA 2020 soundtrack. Her 2021 EP 'Yeah Yeah Yeah Yeah Yeah Yeah Yeah Yeah' is a perfect showcase of her songwriting talent.
September 23rd 2022 & 24th 2022
Francis of Delirium @ Reeperbahn Festival
Born out of a bedroom, the project Francis of Delirium was created by solo artist Jana Bahrich (Vancouver) who later invited drummer/producer, Chris Hewett (Seattle) to form an indie rock band, based in Luxembourg. Synthesizing grunge and folk to create high energy indie rock in an evocative and vulnerable experience that encourages the listener to look inward